First Actuarial Client Conference – Thursday 9th May 2019
At its first client conference, in the stunning venue of RSA House in London, First Actuarial brought together well-known and respected speakers from the pensions world to challenge accepted thinking and explore fresh approaches.
Matthew Taylor, Chief Executive of the RSA, provided a thoughtful introduction. He discussed ideas such as economic insecurity and change, and outlined his own professional involvement in pensions, including support for Collective Defined Contribution (CDC).
For our keynote, David Fairs took time out from his hectic life at The Pensions Regulator to give us a sneak preview of forthcoming regulatory developments. In other sessions, we looked at two large pension funds – USS and Royal Mail – and their different ways of tackling risk and affordability. We also provided a refreshing take on the issue of GMP equalisation, with a digestible case study.
In the closing session, former Pensions Minister Ros Altmann recalled highlights of her career in pensions, in conversation with Henry Tapper.
We hope to see you at future events, but in the meantime, watch the videos, download the presentations and follow the links to further information.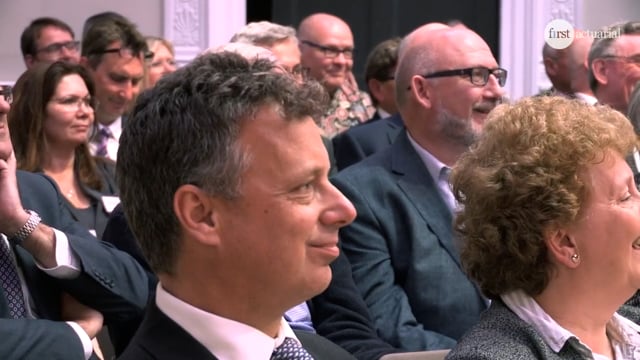 Keynote – David Fairs, The Pensions Regulator
As the pensions landscape undergoes further change, how is The Pensions Regulator (TPR) responding? David Fairs discusses the thinking behind the forthcoming Defined Benefit Funding Code.
The Funding Code aims to provide clarity around regulatory expectations and investment risk. TPR will be pushing schemes to reduce their reliance on employers over an appropriate timescale, and will fully expect to see this reflected in long-term planning. One glimmer of hope is that on investment risk, David deems it more important for schemes to understand and be comfortable with the level of risk they're running than to avoid risk altogether.
TPR will be consulting on the finer details of the Funding Code in early 2020.
David Fairs, Executive Director for Regulatory Policy, Analysis and Advice, The Pensions Regulator
David Fairs is responsible for development of policy at TPR, and has oversight of professional advisers such as lawyers, actuaries, investment advisers and business analysts. David was previously a Senior Partner in the Pensions practice at KPMG, where he advised on pensions and employee benefit arrangements.
Session 2 – GMP equalisation
29 years since the Barber judgement and with two Lloyds Banking Group rulings behind us, GMP is the one remaining obstacle to gender equality in pensions. Duncan Buchanan of Hogan Lovells and Wendy Handcock of First Actuarial discuss where we are with GMP equalisation and what we should do next.
To demonstrate GMP inequality, the presenters take two fictitious individuals, Theresa and Jeremy, and discuss how the various calculations and rulings made by the Lloyds Banking Group case affect their respective pensions. Duncan highlights a number of 'dark corners' that are taxing the minds of the Employer Equalisation Working Group on GMP Equalisation. These include the particularly knotty area of transfers-in.
Wendy Handcock, Actuary, First Actuarial
Wendy joined First Actuarial when the firm was established in 2004 as a partner, scheme actuary and head of the technical department. Since going into semi-retirement a few years ago, she has continued to work for First Actuarial on a part-time basis. She leads a GMP equalisation working group within the firm, to consider and resolve the many issues that continue to arise.
Duncan Buchanan, Pensions Partner, Hogan Lovells
Duncan Buchanan is passionate about GMP equalisation, and is known in the pensions industry for bringing the subject to life. He has been a pension lawyer for almost 30 years, with a specialism in GMP equalisation since the 1990s. As a result of his lobbying, the original guidance was withdrawn, and he sat on the DWD guidance group from 2013 when it was originally set up. He is now a member of the Employer Equalisation Working Group on GMP Equalisation, which assists schemes in understanding and addressing GMP equalisation.
Session 3 – Thinking differently about pension risk
Hilary Salt of First Actuarial, Sam Marsh of the University of Sheffield and Terry Pullinger of the Communications Workers Union discuss different ways of approaching risk and affordability.
Opening the session, Hilary discusses today's culture of risk aversion, in which worst-case scenarios take precedence over rational planning. She looks at how this trend manifests itself in pensions, with The Pensions Regulator encouraging schemes to invest in bonds, due to their safe returns, for example, away from more productive assets. Her presentation is a clarion call for a more balanced approach to risk.
The Universities Superannuation Scheme, the UK's biggest DB pension fund, hit the news in 2017 when a triennial valuation led to calls to close the DB section of the Scheme, resulting in industrial action. A Joint Expert Panel was formed. One if its many conclusions – that de-risking was adversely affecting asset growth and that the Scheme valuations were overly prudent – vindicated a 2014 report produced by First Actuarial.
Terry Pullinger recalls his work with First Actuarial to introduce Collective Defined Collective (CDC) pension schemes in the UK, following the announced closure of the Royal Mail's fully-funded DB scheme on the grounds of balance-sheet risk. With only 3% of DB schemes open to new entrants, society is storing up huge problems, Terry argues. In the quest for better alternatives to DB, Terry is actively involved in pushing legislation through parliament to bring CDC into effect. He calls for the pensions industry to support this innovation.
Hilary Salt, Founder, First Actuarial
Hilary is an actuary and Founder of First Actuarial. Her clients include a number of trade unions, which she supports in pensions-related negotiations. She has worked extensively with the Communication Workers Union (CWU), devising the groundbreaking CDC proposal which ended the Royal Mail dispute. She has also advised on alternative approaches to the valuation of the Universities Superannuation Scheme (USS).
Sam Marsh, Lecturer, University of Sheffield, and Elected Union Negotiator
Sam Marsh is a lecturer in mathematics at the University of Sheffield. He is also an elected negotiator for the UCU union, representing academics and other workers in higher education. He became actively involved in both UCU and the USS pension scheme in 2014, when he read First Actuarial's report on the USS.
Terry Pullinger, Deputy General Secretary (Postal), CWU
Terry Pullinger is a proud postman who joined Royal Mail and became a member of the Communication Workers Union (CWU) in 1985. Now Deputy General Secretary (Postal), he has served as a Union Representative at Local, Area, Divisional and National level for almost 30 years. He feels honoured to have spent much of his life representing ordinary working people.
Session 4 – Ros Altmann in conversation with Henry Tapper
Former pensions minister Ros Altmann recalls highlights of her career in pensions in conversation with First Actuarial's Henry Tapper.
The Justice for Pensions and the Allied Steel and Wire (ASW) campaigns catapulted Ros Altmann into public prominence in the 1990s. Ros recalls what happened behind the scenes when ASW failed and steelworkers lost their entire pensions, with a fascinating account of differences between Tony Blair and Gordon Brown. This proved to be a trigger for legislation for setting up the Pension Protection Fund (PPF), followed by the FAS (Financial Assistance Scheme).
Pension freedoms are a welcome development, Ros believes, but without adequate guidance, we have too many people taking too much money far too soon out of their pension pots. Ros discusses financial education in the workplace as a possible remedy.
Ros concludes with a candid account of her appointment as pensions minister by David Cameron after the Conservatives' unexpected victory in the 2015 General Election.
Henry Tapper
Henry Tapper is a leading commentator in the pensions industry, with many thousands of followers on social media. He works with First Actuarial to restore confidence in pensions and promote innovations through developments such as CDC. He founded AgeWage and the Pension PlayPen to map the pensions genome and ensure everyone gets data-driven information on value for money in their pensions.
Ros Altmann, former Pensions Minister and UK pensions expert
Ros Altmann is a leading UK pensions expert and political campaigner. Her work contributed to the establishment of the Pension Protection Fund (PPF) and the Financial Assistance Scheme (FAS). In the culmination of her career, she was appointed Pensions Minister at the Department of Work and Pensions after the 2015 General Election, and was raised to the peerage as Baroness Altmann in the same month.
First Actuarial Client Conference – Thursday 9th May 2019 – Gallery
Click to see full gallery